Odds & Ends: Haikara-San sequel doubtful for theatrical, Chunibyo cancelled, Canadian Adult Swim app dies, Crunchyroll's top fall titles

Breakdown
Eleven Arts says Canadian theatrical release of Haikara-San Part 2 is "unlikely"
---
Speaking to Anime News Network, distributor Eleven Arts has said that a Canadian theatrical release of Haikara-San: Here Comes Miss Modern – Part 2 is "unlikely." On Twitter, the company added that a release in this country wasn't planned, though could be a possibility if there's enough demand. The first film screened at select Cineplex locations back in June.
A reason for the snub wasn't shared, though it likely has to do with how the first performed. Boxoffice Mojo reports that it grossed US $16k. That likely means Canadian returns were negligible.
Earlier in the year, the company announced that Liz and the Blue Bird as well as The Laws of the Universe: Part 1 would be released theatrically here. Both have already seen their U.S. theatrical release, though Eleven Arts said they were still "working on" getting Liz up here as of this month. Laws of the Universe screened solely at The Fox Theatre in Toronto on November 8th and 11th.
Canadian theatrical release for Love, Chunibyo and Other Delusions – Take On Me cancelled
---
On that same note, Azoland Pictures confirmed on Halloween that the company has cancelled plans for a theatrical release of Love, Chunibyo and Other Delusions – Take On Me in Canada. Partnering with Sentai Filmworks, the duo launched the animated film version of Torako's light novel series in the United States on November 2nd. The movie premiered in Japan this past January. A Canadian release was announced to happen alongside its debut south of the border.
Azoland didn't offer an exact explanation for what happened, but state the following: "We were originally planning to screen in Canada when we first made an announcement, however things change due to the circumstances which are not under our control. We truly apologize that we could not bring it to Canada this time. We wish we could." The company later said it hopes to release more movies in Canada in the future.
While larger anime distributors are hesitant to release their entire theatrical slate in Canada, smaller companies such as Azoland and Eleven Arts were more supportive. It's hard to know if these are just one-off situations or if it has the potential to grow into a trend. This is total speculation on my part, but one has to wonder if the fact that Canada has only one truly national theatre chain has something to do with this. If every event (foreign films, sports, operas, etc.) is vying for the same cinema screens, some are bound to wind up getting cut.
Adult Swim cuts Canadian stream app
---
On November 2nd, Williams Street's Canada-exclusive Adult Swim streaming app was removed from both Google Play and iTunes. Originally debuting in March 2016, the subscription video-on-demand service offered essentially the entire catalog (both current and library) of internal Adult Swim productions for $3.99 a month. It was completely independent of Corus Entertainment's Adult Swim programming block in Canada and subsequently did not require a cable subscription.
However, while content offerings were generally refreshed, the app itself was abandoned shortly after release, with it not receiving updates to make it compatible with newer versions of Android and iOS. In a lot of cases, this meant if you upgraded firmware or switched to the latest devices, you weren't able to use the app at all.
On the subject of the app's removal and what it means, a Turner representative stated, "we don't have any plans we can share, but make sure to follow us on social media for all future news about our content."
Its demise may be related to the closure of fellow WarnerMedia streaming services Filmstruck and DramaFever. There's some hope the content from both might find its way into a more mainstream palatable general WarnerMedia SVOD service. Yesterday, the company announced it would be launching the Criterion Channel, a new streamer seen as substitute for Filmstruck, with its content also intended for the general WarnerMedia service.
It's likely Adult Swim programming will find its way onto WarnerMedia's SVOD platform (if not the more genre focused VRV) but whether that's offered to Canadians in a timely (launch is expected to be U.S.-only) and attractive fashion remains to be seen. The company recently debuted DC Universe, a subscription comic book/video service, that's reportedly intended to be available in Canada at some unspecified point in the future. Its current headlining original, the Toronto-shot Titans, has already been picked up by Netflix for international streaming.
Those hoping this might be the initiative needed to kick Adult Swim Canada out of its zombified state are going to be in for a disappointment. After all, this is the block that's had Samurai Jack in its lineup for ages, yet more than a year after its U.S. debut, still hasn't picked up the final season of the show.
Fans hoping to legally support Adult Swim content are better off seeing what the block's website will allow them to watch. Following the launch of FLCL Progressive earlier this year (which, notably wasn't on the Canadian app), AdultSwim.com has recently launched free streaming versions of both the original series and Alternative. All three are currently available to watch in Canada … or at least they should? I can't get the first series to actually play for me. It's still available on Funimation's website either way.
Crunchyroll reveals Canada's most watched Fall 2018 anime
---
Ending off with another WarnerMedia streaming service, Crunchyroll revealed the most popular Fall 2018 anime simulcasts in Canada. Surprising only to those unaware of the Streisand Effect, White Fox's adaptation of Kumo Kagyu's Goblin Slayer light novel series seems to have taken the crown as this season's most popular new show. The adult animated series swept the entirety of the United States and Australia, and also took a good chunk of the English-speaking Canadian provinces.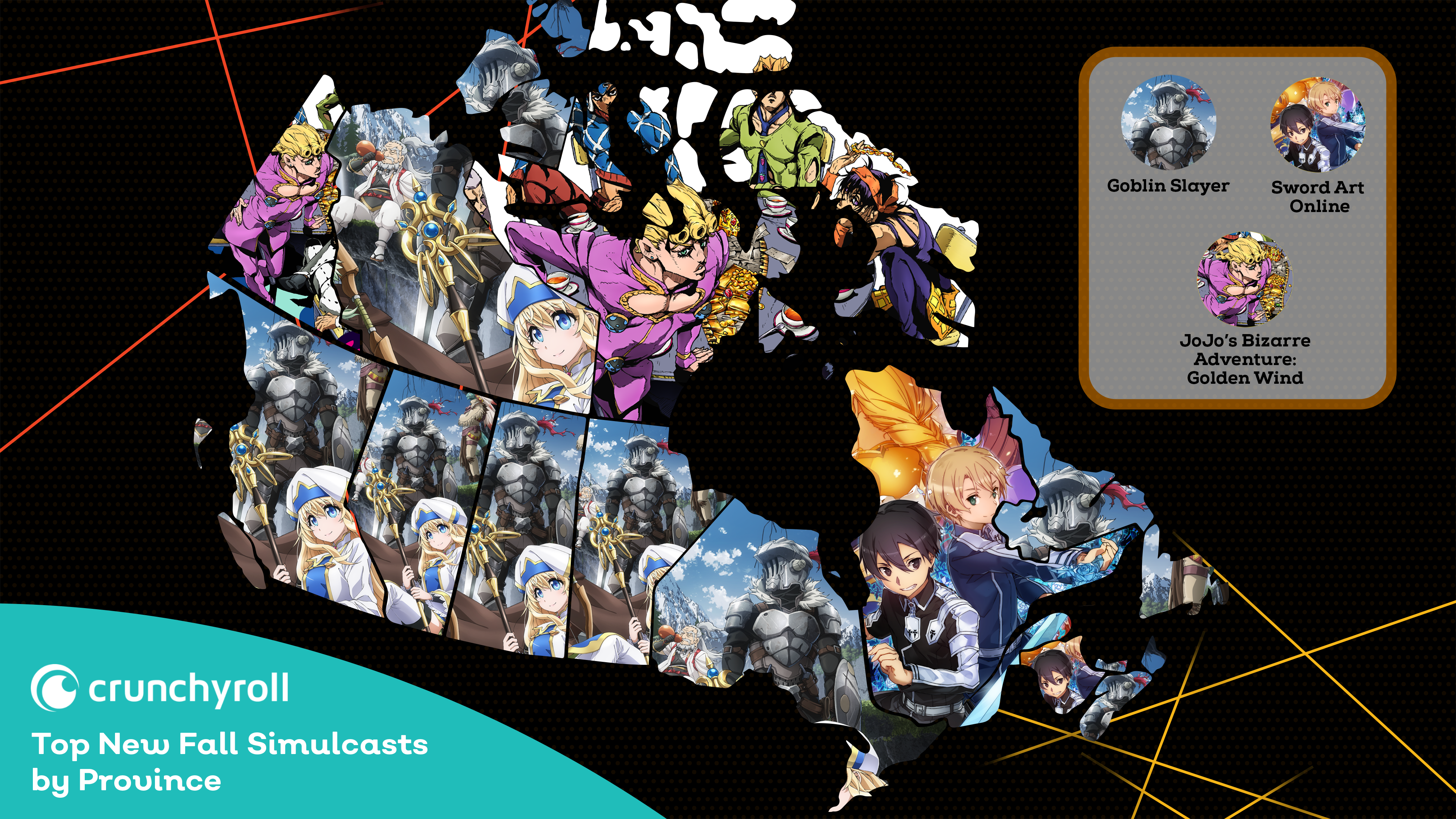 New Brunswick and Quebec, the only two provinces where French is an official language, preferred Sword Art Online: Alicization. The three people who watch anime in the Yukon and Nunavut appear to be fans of JoJo's Bizarre Adventure: Golden Wind.
Crunchyroll last broke out Canadian preferences by provinces and territories in February. A wider range of titles were represented. Both graphics do have a big caveat in that they exclude ongoing shows, so popular long runners like Boruto, Black Clover and One Piece are disqualified.